Cider Bar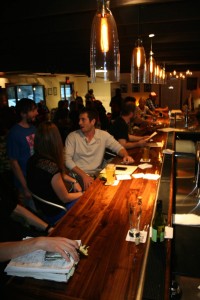 The Urban Orchard Cider Bar serves at least two purposes.  First and foremost, this is a warm and inviting space to experience our one of a kind hard ciders that are made on site.  The hard work and science takes place downstairs, so that minds can be blown up above.  The second main function is to provide an atmosphere that fosters creativity, invigorating discussion with friends or just a warm chair to enjoy your cider in one hand and your new favorite book in the other.
Cider enthusiasts can expect a variety of choices including three staple options of our own, our rotating seasonal/experiential batches and ciders from around the country with internationals sprinkled into the mix.  If you are planning your first trip to our cider bar, we recommend trying a "flight" to sample everything.  This is a great way to familiarize yourself with the range of "bone dry" to "semi-sweet" craft ciders and everything in between.
Not sure if a mouthwatering cider is your thing?  Not to worry, we carry wine and a selection of local beers on tap that are Asheville's own.  It is not easy choosing what and who to carry when you live in Beer City USA, so we will rotate our tap choices periodically to satisfy all palates.
Cidery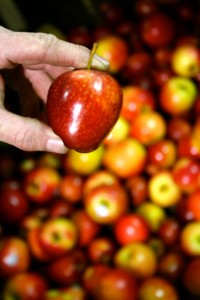 The Urban Orchard Cidery is located directly beneath the Cider Bar and there is always something a brewin'.  During full production, we are able to generate 3,300 gallons of fermented cider at a time, utilizing four 300 gallon and three 750 gallon stainless steel fermentation tanks.  In addition, Urban Orchard Cider Co. utilizes a three barrel, 93 gallon, small batch tank for more experimental approaches and seasonal offerings.  All of our ciders are matured from eight months to one year.  The choice to age our product allows Urban Orchard Ciders to be visually pleasing without the need for a filtration process.  We believe this maturation phase also provides time for the complete infusion of flavors so our customers enjoy the best craft cider possible.
South Slope
Urban Orchard Cider Co. began in what was the soon to be, up-and-coming area of West Asheville that is now better known as, "Sweet Slope", "East-West Asheville" and our favorite, "Carb Corner". A local family of six decided to change the game of craft cider in America by utilizing those delicious Western North Carolina apples, which also serves as the 7th largest apple producing region in America in nearby Hendersonville, NC. The Asheville community is well-known for supporting local products and for backing those that choose to take an often slightly more expensive route, to much better/healthier products. Urban Orchard Cider Company was born from this ideology. It was a scary gamble to create something of the highest quality without being 100% sure that the local market would appreciate it. Turns out, many markets have and are continuing to do so.
Following nearly five years of constant creativity and more "rolling of the dice" with never seen before flavors incorporated into a craft beverage that dates back to the first American settlers, we have expanded our production to allow for a greater customer reach. "Farm to Table" and the idea that people want to know where their food and beverages are originating, are ideas that are here to stay and what now sets the true standard in Asheville and many other communities throughout the States. In a time where product labels can be difficult to navigate and interrupt, you can be sure that Urban Orchard Ciders are of the purest form. We are dedicated to producing the highest quality craft ciders that we would feel good about drinking ourselves, and often do. Forget the days of overly sweet ciders, full of artificial sweeteners. We let fresh-pressed apple juice do the subtle sweetening for us. Aging/maturation and a variety of yeast strains are competitive advantages for us and we have found that the extra work delivers us with a superior product in the end.
---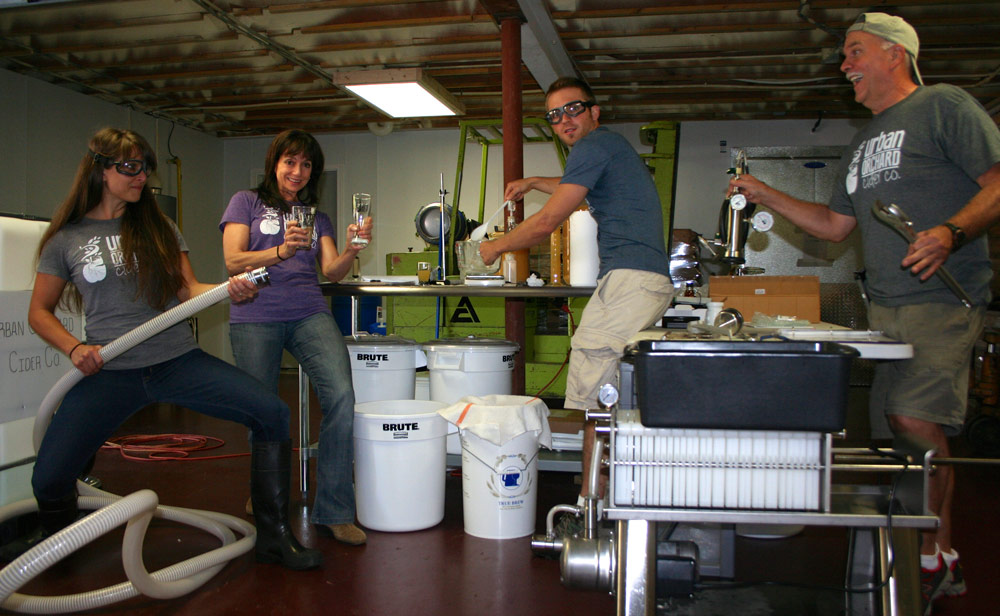 The Urban Orchard Family
F.A.Q.
Q: Can I take Urban Orchard Cider home with me?
A: Absolutely! Urban Orchard Cider Co. is not currently canning or bottling product, but does offer 32oz growlers to-go from the tasting room. Pricing and availability varies based on the rarity and cost involved in production. Your friendly U.O. server can help decide which style is perfect for you and let you know which are currently available.
Q: Are furry friends welcome in the tasting room?
A: Urban Orchard Cider Co. loves the furry sidekicks! The tasting room has an adjacent deck and "green space" that is best suited for drinking with your well behaved pal. The "green space" is equipped with small bags and trash receptacles for accidents. Please be respectful of the not so furry visitors as well.
Q: Where else can we drink Urban Orchard Ciders?
A: Great question! There are quiet a few bars/restaurants/breweries that offer our delicious craft ciders. For the most current list of U.O. customers, follow this link: If you would like to see our craft ciders at your favorite watering hole, we recommend asking for our products there and hopefully they will do the rest. The squeaky wheel gets greased…
Q: Do you offer tours?
A: Yes and no… The cidery is located just beneath the tasting room and is a working cidery most every day. There are special days that Urban Orchard Cider Co. conducts tours, such as Customer Appreciation Day. Follow the Urban Orchard Cider Co. Facebook page to get special tour dates. For those looking to schedule a tour, Asheville Brewery Tours is currently the only other option and they will be happy to set something up for you.
Q: How do we host a private event at Urban Orchard Cider Co.?
A: For special events and/or to reserve the cider bar for your occasion, email Katy Luquire at katy.UrbanOrchardCider@gmail.com. Urban Orchard Cider Co. has hosted everything from wedding rehearsal dinners to large business meetings and hope to work with you very soon. The cidery is a fun and different alternative to the boring ol' board room/meeting space. Invite your crew and let us do the rest.
Q: Can I order a keg as a private customer?
A: Heck yeah you can! Urban Orchard Cider Co. can accommodate your craft cider needs in either 1/2 barrels (15.5 gallons) or 1/6 barrels (5.15 gallons) in most current styles offered. Deposits (cash/check) are required and at least one week notice is preferable. Flagship ciders are a safe bet, but for the specialty offerings, please contact us as soon as possible to check available options. There are two routes you can take when placing an order: 1) Email orders@UrbanOrchardCider.com 2) Call or stop in the cidery tasting room to place an order
Q: How long has Urban Orchard Cider Co. been around?
A: Urban Orchard Cider Co. officially opened on October 30, 2013. Yep, that is Halloween Eve. For this reason, we celebrate our anniversary on or close to Halloween every year with a huge costume party. There is always free entry, entertainment and the ever-famous "Fire Flight"! The "Fire Flight" consists of six, five ounce pours of chili infused ciders from the Urban Orchard Cider Chili Series. Everything from a hint of spice with jalapeño, to a blazing heat from the world's spiciest chili, the Scorpion pepper. Asheville's best Halloween celebration for sure.
Q: I see you hang beautiful Asheville artwork. How do I get my art in the tasting room?
A: Yes, we do love our Asheville artists. As you may already know, there are quite a few artists in our progressive mountain town. Urban Orchard Cider Co. gladly hangs artwork with zero commission, but there may be a waiting list. Email Bar General Manager, Katy Luquire (katy.UrbanOrchardCider@gmail.com) with your interest in showing your creative works, including sizing and examples.
Q: What types of apples do you use?
A: Urban Orchard Cider Co. sources all apples from the nearby Hendersonville, NC. The blend is a balanced variety of sweet/dessert-style apples and those bitter/sharp apples that you taste in the drier styles of our ciders. All ciders that we make are from the same blend. We do this intentionally to showcase the vast difference that our yeast selection makes in the final product.
Q: Do you filter your ciders? If not, how do you get them to be so pretty?
A: Urban Orchard Cider Co. does not filter any of our ciders. The crystal clear finish is achieved through a one year maturation process, aging. While not the most profitable system, it does allow us to keep our craft ciders unfiltered and enhance the melding of flavors process. We do it for the love of great cider.
Q: Do you use high-fructose to sweeten like some other cider companies?
A: No way, no how, never. You will notice that our craft ciders are only as sweet as the juice from a pressed apple can be. This is simply because we begin with fresh-pressed apple juice and back-sweeten with the same. That said, Urban Orchard Cider Co. offers a selection of craft ciders that go as far as Bone Dry, where very little to zero back sweetening is needed. A final product, whether it be in food or beverage, is only as good as the ingredients you begin with. Western North Carolina is fortunate with the local ingredients that are available and are what drive our seasonal craft cider styles.
Q: Where do I direct my media questions/requests?
A: Direct all media needs to Marketing and Creative Director, Jeff Anderson at jeff@UrbanOrchardCider.com