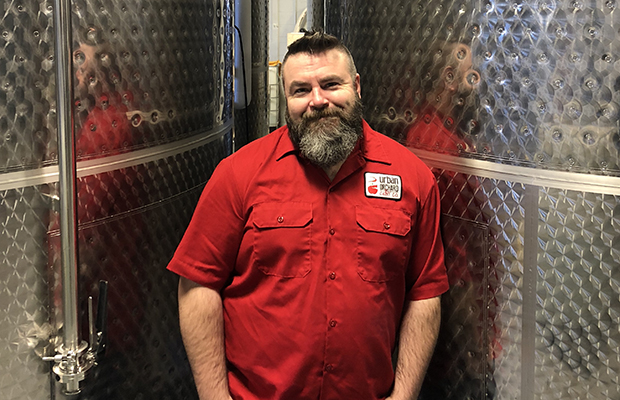 Gregory N. Hill​, ​Cider Maker/Production Director​,​ Urban Orchard Cider Co.​ —​ Asheville, North ​​Carolina​
BREWER: How do you feel your job has had to adapt in the craft beverage market compared to a few years ago?
HILL: My job hasn't changed much due to the craft beverage market, its changed due to our growth and the large expansion we undertook over the last couple of years. But I'd say the biggest thing we've kept a close eye on is making sure that we remain true to the craft beverage movement as we see more and more companies getting away from it by making products that aren't necessarily crafted or selling to a corporation. I understand that it is a business move so I'm happy for those that make those maneuvers, but I like the way we do things and want to remain true to that.
​BREWER: Who is your mentor in the industry and why? What have you learned from them?
HILL​: ​I have learned so much from so many different people that its hard to nail down just one, but I definitely learned a great deal about cider from Josie, who is one of the owners of Urban Orchard and I learned a great deal about fermentation from Jeff Irvin the program director at AB Tech's Craft Beverage Institute. I continue to study and learn about my craft from as many people as possible so that I can remain at the top of my game. I also just love to learn and don't think I'll ever stop taking classes or teaching. There is just so many different techniques and things to learn about this industry that there is no way any one person can know it all, so you have to continuously try new things, be creative and be open minded to learning about how someone else is doing the exact same thing you are doing but with a couple of their own little twists to it. The theory is the same, but those small little tweaks can produce an incredibly different end product. It​'​s always good to have something new to try up your sleeve. I guess the most important thing that I've learned over the years is that people's palates are constantly changing so in order to meet their new wants and desires you have to be able to come up with new flavors and new techniques to stay relevant and trendy in this industry.
​BREWER: Can you share a success story that you are proud of in your job or maybe a story of how you learned from a situation that has altered your thoughts on how you do your job now?
HILL: That​'​s a tough one to answer because there are so many enlightening moments from this kind of work. I think as a whole looking back and thinking about how we used to perform some of our daily tasks in ways that are absurd to us now. What seemed like a good idea at the time actually cost us hours of man hours and now we do the same thing in considerably less time and wonder why we were all so sleep deprived and working 18 hours a day when we first started this thing. It​'​s actually quite fun to think about those days and how much more efficient we are at what we do now. I'm sure that will continue to be something we laugh about well into the future.
​BREWER: Can you touch on something your cidery has added lately that's unique or making your business more successful (it could be equipment, technology or people)?
HILL:​ ​Something that we've done that we never did before was hire a sales representative.​ ​Most of our accounts came from people seeking us out or every once in a while some of us would take some time off our normal jobs and make some sales calls, but we've never had a dedicated position for sales. This is obviously not unique, but we think that having someone to do this is going to help us be more successful as we move forward with growth plans.
​BREWER: If you had one business strategy that you could implement to better the craft cider industry, what would it be?
HILL:​ ​It​'​s not really a business strategy, per se, but we have got to get some of the antiquated pre-prohibition laws regarding alcohol production and sales changed. There are so many laws that pertain to one type of alcohol that is complete nonsense for another, but they are both subject to that same law or taxes. Unfortunately, in some instances, cider gets lumped into two different categories, beer and/or wine. Cider needs to be its own category and have its own laws because it is vastly different from beer and wine and should be taxed and governed accordingly. I know there have been some strides made over recent years, but if we can continue to get these types of issues figured out and cleaned up for all craft alcoholic beverages then all segments of this industry can continue to grow well into the future.