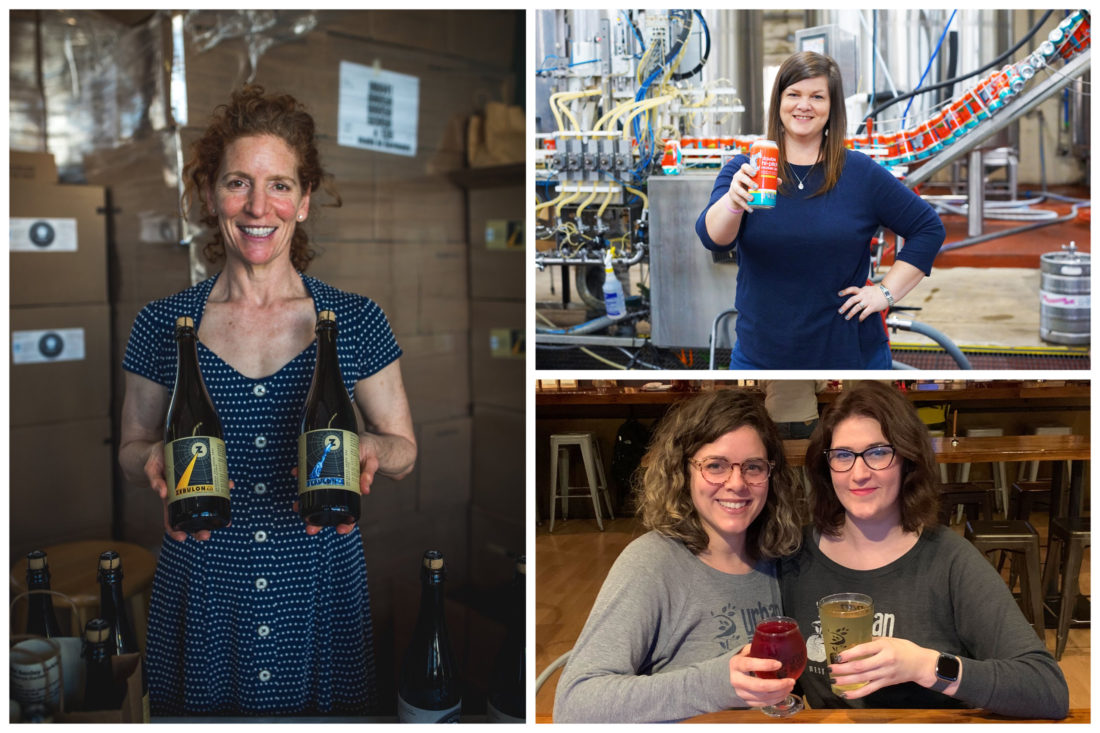 LIKE A BOSS: Numerous Asheville-area taprooms operate smoothly and efficiently thanks to female managers. Clockwise from top right are Christine Ferguson Weaver (Hi-Wire Brewing), Katie Jordan and Katy Luquire (Urban Orchard Cider Co.) and Gabe Pickard-Karnowski (Zebulon Artisan Ales). Photo of Ferguson Weaver by Javier Bola; photo of Luquire and Jordan by Bella Javens; photo of Pickard-Karnowski courtesy of Zebulon Artisan Ales.
In the craft beverage industry, the alcoholic liquids are foremost what define a business, but it's the taproom experience that can set a producer apart from its peers. Visiting where the beer or cider is made allows customers to form a stronger connection with the brand, and throughout the Asheville area, many of the individuals making sure those interactions run as smoothly as possible are women.
"We're the liaisons between the owners and the staff, the liaisons between production and the staff, and the liaisons between sales and the staff," says Katy Luquire, hospitality manager for Urban Orchard Cider Co. "We have weekly meetings with the whole company, so we have a really good idea of what's happening — not just in the taproom, but with the business as a whole."
Between Luquire, whose role also includes managing the cidery's Buxton Avenue location and its events, and Katie Jordan, manager of Urban Orchard's original West Asheville taproom, they're responsible for roughly 20 employees. In addition to hiring, training and scheduling, they write standard operating procedures, work with production to craft product descriptions and help educate each bartender and server about the ciders on tap. Their attention to detail ensures that the work of owner/operator Josie Mielke and head cidermaker Greg Hill are accurately conveyed to each patron.
"What we do most is communicating information to people and making it streamlined in a way that people can understand," Jordan says. "A big part of that is keeping ourselves organized, too. We have SOPs for our own daily stuff that we do, so if someone is out sick or on vacation, we make sure all of our bases are covered and that we're working together."