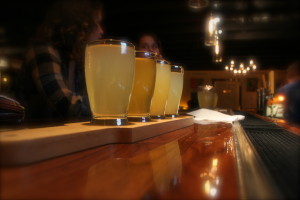 Special Report Video: The New Brew
A new type of brew is growing roots in the mountains, and it may be even more at home than beer.
Cider is the fastest-growing sector of the alcoholic beverage market, according to numerous industry reports. And the large, mass-marketed cider producers in the US are quickly gaining competition from smaller, craft "cideries"…including a few right here in Western North Carolina.
"It's getting bigger and bigger," says cider blogger and northern England emigrant Christian Nicholson. "This place, Asheville, everybody thinks of it as Beer City. But in 5 years time, it's gonna be Cider City."
Nicholson says he chose to relocate to Asheville from his first American stopping point in Florida specifically because of the cider.
"Every single flavor you should have in a cider is in this glass, really," referring to Urban Orchard Cider Company's 'Sweet English' cider. "I know there's dry ciders out there, and I like dry ciders. But again I'm a purist. It's about the apples. It's not about blackberries, pears, ginger…it's about the apples. And this is good local apples, fermented to perfection, and it's just beautiful."
Urban Orchard sits on Haywood Road in West Asheville. Josie Mielke and her family started the cidery in 2013 after a few years of brewing cider at home. A gluten allergy forced her to look into other alcoholic beverages besides beer, and after tasting some of the mass-market American hard ciders, she and her husband Shiloh decided they could do better. After toying with a few recipes, they found one they liked, and started plans to open the bar.
"In England/Spain & a lot of European countries, cider takes up about 15-20 percent of the market," Mielke said. "Here in the U.S., for a really long time, it was less than 1 percent. As
we've seen craft beer industry explode and take off and take away from mass domestics, cider is sort of a little branch off that as well. If we're at 1 percent now, the more
people hear about us, the more people start trying cider. It's just a really nice alternative to beer and wine, so there's plenty of room for growth."
Indeed, growth is the key word. According to IRI, a Chicago-based market research firm (@iriworldwide), sales of cider in the U.S. have nearly doubled every year from 2011 to 2014, ending calendar year 2014 with more than $378 million in sales, only 1.22 percent of the beer product category.
Mielke and her family are hoping that with a little education, they can raise that 1 percent and create some true cider fans, and have a good time doing it.
"It's been a lot of fun. It's kind of like you're teaching a class on cider every time you walk into the bar, because it is still such a new thing right now, a lot of people don't know how it's made, or if it's all apple, etc," Mielke said. "So every time someone walks in the door, if they want, we try to give them a little bit of an education."
Article Link: ABC News 13